Research/Demos
PATH to Reading strengthens the brain's ability to discriminate between left-right visual movement. This discrimination is critical to the act of reading and is not a part of eye-brain function that we are born with – it is a skill that must be learned.
The PATH computer therapy consists of a striped-fish pattern that moves to the left or to the right in the center of a striped background. The child must push an arrow key to indicate the direction the fish stripes moved. PATH measures a child's ability to see these subtle movements and tracks the child's improvement over time. Positive feedback helps the child learn quickly.
The timing of the brain is optimized by training on left-right movement discrimination, enabling a wide range of reading skills, including fluency, comprehension, word identification, and spelling, in addition to attention and working memory, to improve significantly.
For Students – Path to Reading – Program Overview
For Therapists – Learn How to Administer PATH Program
For Students – to learn more about the PATH Motion Memory program
For Students – to learn more about the PATH Reading Rate program
For Therapists – to learn more about the Reading Rate program
Research
Controlled clinical studies of PATH neurotraining have shown that direction discrimination therapy abates dyslexia, especially when administered when cortical plasticity is optimal at ages six to eight, the normal developmental period for learning direction discrimination and the period when children are typically learning to read. These studies have also shown that the more training is administered, the more reading fluency, attention, and memory improve.
PATH to Reading is validated as breakthrough technology that significantly improves reading fluency, attention, and working memory.
The PATH to Reading therapy (previously known as MovingToRead) was used in controlled clinical studies during the school years 2002-2003 among 107 students in second grade and in 2003-2004 among 106 students in second and third grade in four elementary schools in the Santa Monica-Malibu and Los Angeles Unified School Districts. During these validation studies, standardized tests of reading skills were administered to every student in the study, initially and at the end of the study, to measure their improvements in the perceptual and cognitive components used in reading.
At the beginning of this study, no significant differences were found between the three groups of inefficient readers on any of the tests of reading skills. This was determined by using Analysis of Variance (ANOVA) statistical tests. Therefore, these three groups were a matched sample.
Students in the motion-game received instructions by watching a four-minute QuickTime movie augmented by verbal instruction from the research assistant when needed. The patented PATH therapy uses displays (see Fig. 1) comprising a stationary, central, "fish-like" window surrounded by a stationary, vertically oriented sine wave grating having spatial frequencies lower, equal, and higher than the test frequency. The fish-like window contains a vertical test sinusoid having spatial frequency equal to 0.25, 0.5, 1 or 2 cyc/deg. A given trial comprises three frames, each lasting 150 ms. The phase of the test grating in frame 1 is ±45 deg., chosen randomly, relative to cosine phase in the middle of the screen. On each of frames 2 and 3, the test grating shifts 90 deg. in a fixed direction (either rightward or leftward), and the task of the trainee is to indicate the direction of movement using the right or left arrow key. A brief tone is presented after incorrect responses. Following the first incorrect response, a double-staircase procedure is used to estimate the direction discrimination contrast thresholds.
Results
The results of this controlled validation study found that all children who were trained on left-right movement discrimination, PATH neurotraining, had large improvements in their sensitivity to direction discrimination. At the beginning of this study, inefficient readers were three times less sensitive than were efficient readers in discriminating the direction of motion. Inefficient readers improved four-fold and efficient readers improved three-fold following training in discriminating the direction of motion. Inefficient readers are least sensitive when test and background spatial frequencies are equal (center pattern in Fig. 1), whereas efficient readers are most sensitive.
Figure 2: Mean Contrast Sensitivity after first (dotted lines), second (dashed lines), and fifteenth (solid lines) replications, and standard errors of the mean for Inefficient Readers (IR) and Efficient Readers (ER) when discriminating the direction a 2 cyc/deg test pattern moved relative to each of the 5 backgrounds, where f is the spatial frequency of the test pattern.
As the intervention training progressed over time, not only did the child's contrast sensitivity for motion discrimination improve 3-4 fold, but also the time taken to practice direction discrimination was reduced in half.
Figure 3: Initial and final reading speeds when trained on Left-Right Movement (PATH therapy), Word Game (identify category of single word presented rapidly in middle of screen, animal name, person's name, or nonsense word, using different category on 3 subsequent days), and Null condition, using only the school's reading program.
Moreover, the more the child was trained on PATH therapy, the more reading speeds increased.
Figure 4: Initial and final reading speeds for Dyslexic and Normal Readers in second grade.
Children who were trained on left-right movement discrimination increased over a grade level on all reading skills: word identification, spelling, and reading comprehension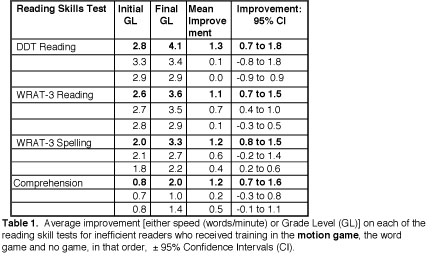 Finding that only inefficient readers who were trained on left-right movement discrimination improved significantly on all reading skills suggests that these reading skills are influenced by the motion pathway.
Finding that following training on left-right movement discrimination, inefficient readers had more perceptual learning than did efficient readers suggests that inefficient readers are not only attending to the task, but also strengthening the directionally-selective motion pathways, improving all reading skills.
Thus, the core deficiency of many poor readers is an impaired visual ability to discriminate the direction of motion, which stems from spatial and temporal sequencing problems caused by neural timing deficits. Sluggish magnocellular neurons might be causing a deficit in attention by preventing the pattern-sensitive cells from isolating the relevant information. PATH therapy appears to cause a physiological change in neural timing that enables permanent improvements in the visual channels.
These results support the hypothesis that inefficient readers have immature motion pathways that can be remediated rapidly when children boost visual skills by discriminating between patterns that activate the center of the working range of the motion pathways. This is the first time that a therapy has been discovered that remediates the reading deficits of inefficient readers having phonological and/or spelling problems. The timing of the brain's motion pathways are optimized by training on left-right movement discrimination, enabling all aspects of reading to improve significantly. These results show that after training on left-right movement discrimination in school for ten minutes twice each week for three months, when followed by directed reading in the classroom, all reading skills improved significantly for seven-year-olds, rapidly transitioning the inefficient reader to become an efficient reader.
Additional Research
Improving Dorsal Stream Function in Dyslexics by Training Figure/Ground Motion Discrimination Improves Attention, Reading Fluency, and Working Memory. Click here for a summary
Visual Neurotraining Improves Attention, Reading Fluency and Working Memory in both Dyslexic and Normal Readers. Click here.
Improving Dorsal Stream Function in Dyslexics by Training Figure/Ground Motion Discrimination Improves Attention, Reading Fluency, and Working Memory. Download the full publication
Short presentation of how Improving Function and Timing in 'Where' Pathway By Training Figure-Ground Motion Discrimination Improves Reading Fluency, Attention, Visual and Auditory Working Memory, and Ease of Learning! Click here
Presentation at the 12th Annual Congress of the Society for Brain Mapping and Therapeutics, Los Angeles, 2015. Click here
Click here to download the Short 2-page summary of how PATH to Reading works and its benefits.(requires Acrobat Reader)
Click here to download Reading Deficits Remediated By Improving Magnocellular Function in the Dorsal Stream. (requires Acrobat Reader)
Click here to download the Longer 10-page summary of how PATH to Reading works and its benefits (requires Acrobat Reader)
Click here to download the Summary of Scientifically Proven New Help For Problem Readers (requires Acrobat Reader)
Click here to download validation study funded by NIH (requires Acrobat Reader)
Click here to download initial publication from NIH funded study (requires Acrobat Reader)
Click here to download the third controlled validation study (requires Acrobat Reader)
Click here to download the initial controlled validation study for both PATH therapy and image enhancement filters to improve reading fluency (requires Acrobat Reader)
Click here to download the validation study showing improvements in cognitive functioning of older adults (requires Acrobat Reader)
Click here to download copy of Dr. Lawton's Summary of Research Accomplishments (requires Acrobat Reader)